Graphic Logo Admin Panel 

              
When logo control panel will be opened, you can see the current logo in the site: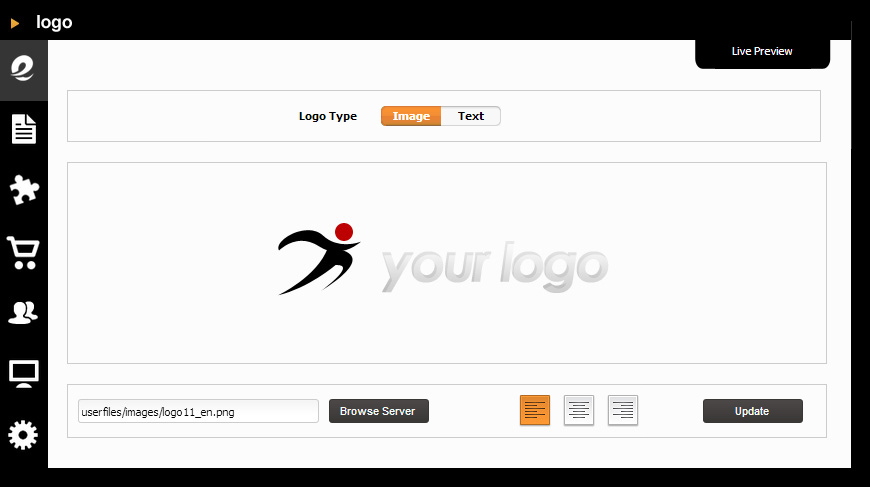 if you want to change the current logo there are 2 possibilities:

1. a graphic logo (photo key)
2. or a textual logo (text key)

If you choose the 1th option, a graphic logo, firtly from your PC you load the new logo. 

STEP 1
First of all select the PHOTO key, as the example shows:






STEP 2
Now you load the graphic logo to the server, it means to the site. Push "BROWSE SERVER" under control panel. 




On the screen will appear the CKFinder. It is a file "store". Now the files are ready to be inserted to website pages.

On the left of filemanager there are file folders and on the right the there will be the miniature files of the site (as you can see, already there is a logo, the only one has been previously loaded). 

STEP 3
To load other files from your PC click Upload as the image below shows.






STEP 4
When an "Open" window will open, you select the folder containing the files you want load (in this case "logos_for_demo), as the image below shows. Now you can see the miniature file in the folder of your PC.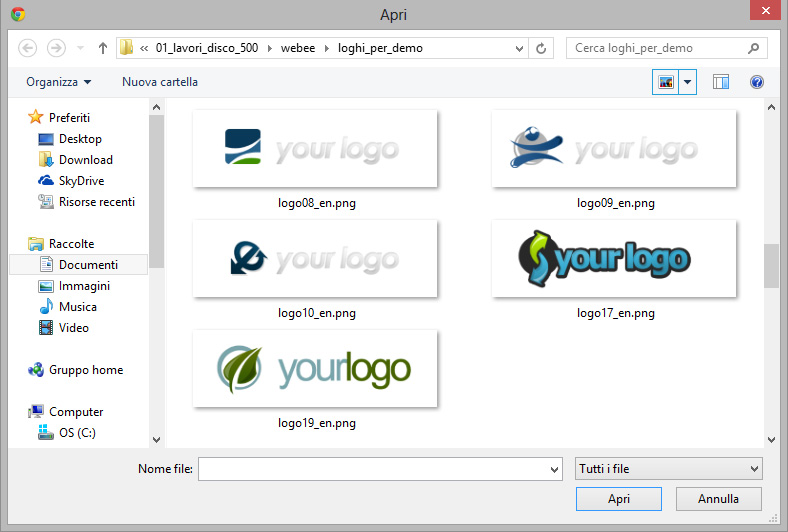 We recommend you to use a file extension .png, so it will be suitable to any part of site.



STEP 5
Select the file you want to load. Seeing that the upload is multiple, you can choose to select most file at the same time. Supposing that you desire to load 5 new files, at once choose the first one, then continue selecting the other logos. Finally, click OPEN, as the example below shows: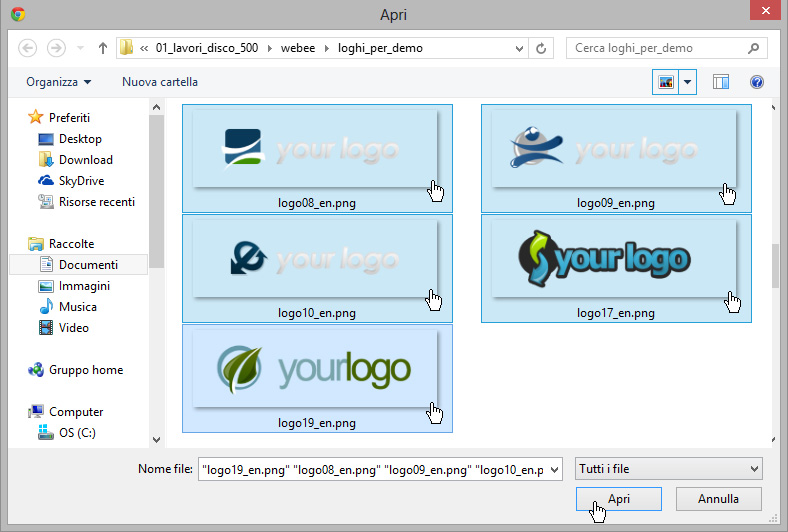 STEP 6
All 5 logos will be upload in filemanager folder (or folder images). Them will be added to the logo previously uploaded (The first in order of visualisation). Create and name as many folder file as you like.

Supposing that among 6 logos in filemanager you choose the second one (logo_08_en.png). You have to click the image miniature to load it in site logo area.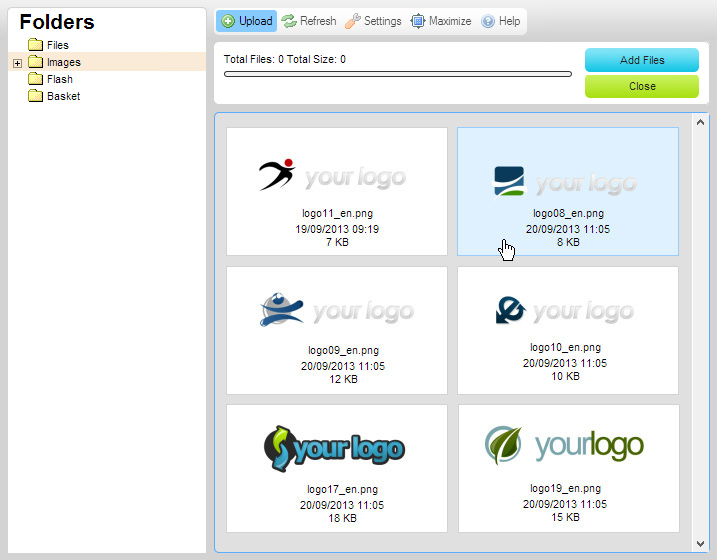 STEP 7
After choosing the file, automatically the system takes you back to the control panel.  Now to complete the procedure you have to confirm, so click the SAVE button , as the example below: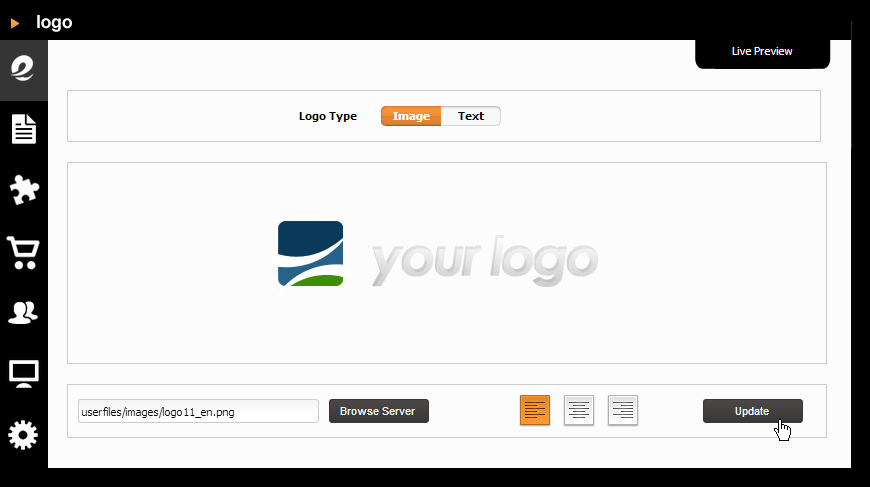 ATTENTION: don't forgetclick SAVE button or otherwise the logo won't be replaced. If you have not click SAVE you can repeat STEP 2, STEP 6 and STEP 7 .



 
| | |
| --- | --- |
| | Textual Logo Admin Panel                |
The system permits you to change a graphic logo with a textual logo.

Select the TEXT key to proceed, as the image shows: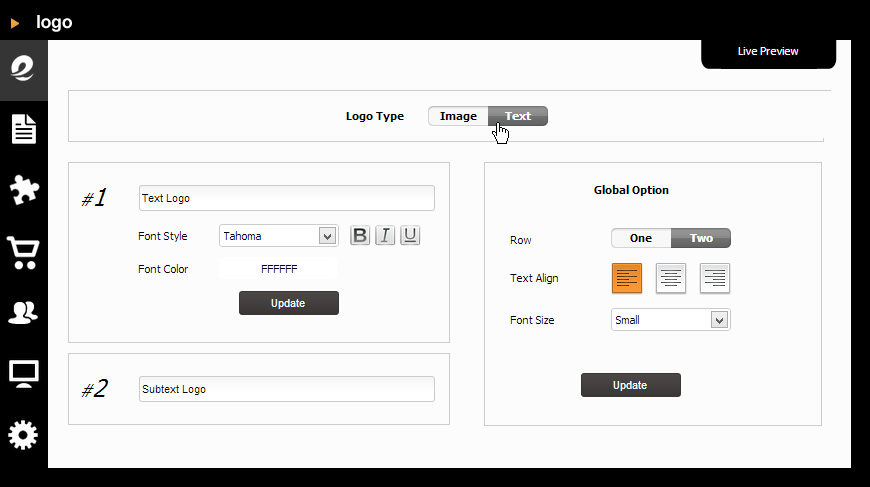 You can enter the text in the part marked with # 1, choose the style and the color of  text . You can also set the bold, the italic or the underlining text. 
Now you can put the second test where there is # 2.

On the right side of panel you can decide to put the text in one or two line. You can also fix the alignment and the text size.

Finally you have to save changes.